Time Alone With God

Sunday, August 13 @ 10:00 AM. Deacons Anne Patterson and Judy Puchalski preside over a special Contemplative Worship service. All are welcome.

Sermons Online

Missed a Sunday at Saugatuck and want to hear the sermon? Visit our sermon archive for videos, transcripts, and sometimes both.

Love God & One Another

"I give you a new commandment, that you love one another. Just as I have loved you, you also should love one another." (John 13:34 NRSV)
Welcoming all ages and all questions. We are a justice-seeking, lifelong learning, fun-loving faith community. 
No matter who you are or where you are on life's journey, there's a place here for you.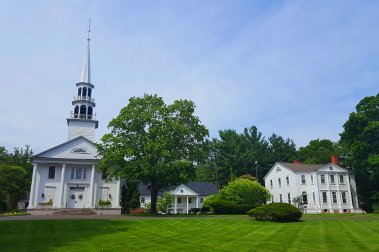 Summer @ Saugatuck
Rev. Willie Salmond and Linda Bruce are our Summer Interim Co-Ministers while Pastor Alison is on sabbatical. Join us for worship every Sunday at 10 AM.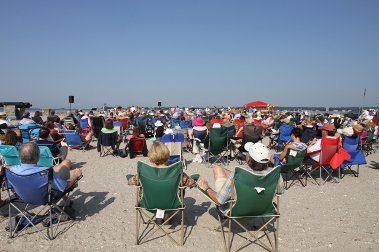 Beach Services
Join your neighbors by the Compo Beach cannons Sundays at 8:30 AM. In event of rain, worship will be held at Saugatuck Church.
Learn more.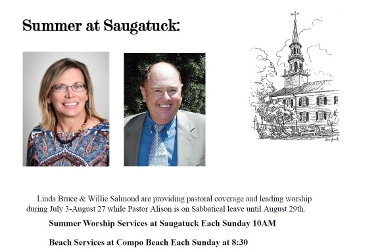 Summer News
Catch up on all things Saugatuck Church, including a music library and organ project update, news on maintenance of the parsonage, and more. Download here.
All Ages Welcome
All ages are welcome in worship. Some of our most memorable services are designed and led by a mix of congregation members ranging from elementary school students to retirees.