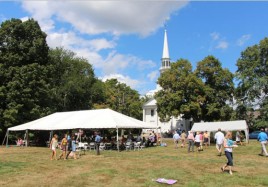 Visitors Welcome
No matter who you are, no matter where you are on life's journey, you are welcome here.
You may be a United Church of Christ lifer and looking for a local congregation.
You may have grown up in a faith tradition but wound up disillusioned or even hurt by the experience…and yet you still feel the presence of God in your life and the lives of those around you.
You may have never thought much about God but then something happened – you met someone on a street corner, you received a diagnosis, you became a parent – and now you are filled with questions.
Maybe you don't even know what you're looking for but you think you might find it in a church.
We joyously welcome all visitors and look forward to meeting you. In this section we provide a sense of what you can expect when  you attend one of our Sunday services for the first time. If you have any additional questions, or if you wish to speak to Pastor Alison, please don't hesitate to contact us.