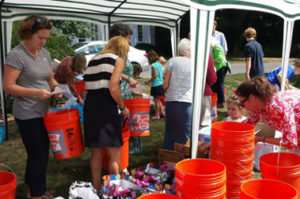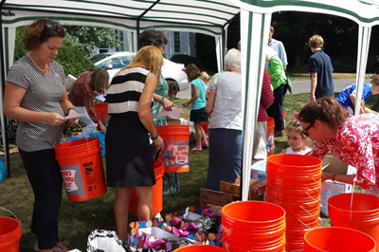 Hurricanes continue to do damage to islands in the Caribbean and parts of the United States. Cities like Houston, TX and Tampa Bay, FL face months of clean-up in the aftermath of Hurricanes Harvey, Irma, and Maria.  The need continues; so will our bucket project! Here's how you can help, as long as those storms keep raging. You can:
(1) Bring in cleaning supplies. Each Church World Service bucket we send needs to include:
4 scouring pads
7 sponges (1 of them large)
1 scrub brush
18 reusable cleaning towels (like Easy Wipes)
1 50 ounce or 2 25 ounce bottles of liquid laundry detergent
1 16-28 ounce bottle of liquid disinfectant dish soap
1 12-16 ounce bottle of household cleaner that can be mixed with water (no spray bottles)
1 package of 48-50 clothespins
1 100-foot or 2 50 foot clotheslines
5 dust masks
2 pairs of non-surgical latex gloves
1 pair of work gloves, cotton with leather palm or all leather
24-28 heavy duty or contractor-type 30-45 gallon trash bags on a roll, removed from carton
1 6-9 ounce bottle of non-aerosol insect repellent.
NOTE: All cleaning items must be new. Liquid items must be capped and securely tightened.
Supplies can be dropped off at Saugatuck Church.
(2) Make a donation to help us purchase supplies ($50 covers the approximate cost to fill one bucket with supplies). Checks can be made out to Saugatuck Church with "clean-up buckets" in the memo line. Mail checks to:
Attn: Dana Johnson
Saugatuck Congregational Church
245 Post Road East
Westport, CT 06880
(3) Gather friends or families and assemble one or more buckets on your own, then drop them off at Saugatuck Church. We'll get them to the central warehouse. NOTE: Buckets should be new or cleaned well. They cannot have held chemicals of any kind. Place all items in the bucket, packed securely. Snap the lid on tight and seal with packing tape.
(4) Watch for details about the next opportunity to assemble these urgently needed buckets for Church World Service to send to flood-impacted areas.
Thank you!