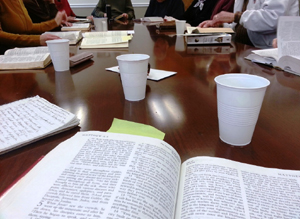 Spiritual Practices
Trauma Support Group (Lent 2017)
Wednesday evenings in March and April. Have you experienced trauma in your life? This group will offer community-building and support for those dealing with a broad range of traumas. Our focus will be on resilience and post-traumatic growth. To learn more, email Thomas Burke, our Yale Divinity School intern.
Bible Study
From September – June, join Pastor Alison each Wednesday, 10:00–11:30 AM in the Youth Room, as together we read and reflect on the text to be preached the following Sunday. No expertise required, just a desire to ask questions and seek answers together. We'll delve into a little history and context, raise questions, and consider how each text might be speaking to us today. Come any week or every week.
Centering Prayer
Thomas Merton said the way we have structured our lives, we spend our whole life climbing the ladder of supposed success, and when we get to the top of the ladder we realize it is leaning against the wrong wall—and there is nothing at the top. To get back to the place of inherent abundance, you have to let go of all of the false agendas, unreal goals, and passing self-images. It is all about letting go. The spiritual life is more about unlearning than learning because the deepest you already knows (1 John 2:21). Join us any Thursday evening at 5:30 PM in the Bell Loft to "fall into" your deepest "you," who already knows.
Sisters in Spirit
Third Wednesday of each month, 6:30 – 8 pm, Fellowship Room. Reading Bad Girls of the Bible: And What We Can Learn from Them by Liz Curtis Higgs. Ten of the Bibles best-known femme fatales parade across the pages of this book with situations that sound oh-so-familiar. Linda Bruce, facilitator.
Healing Prayer Group
Third Sunday of every month from 5:00 PM – 6:30 PM. Location varies based on room availability. Please check the monitor in the Welcome Center when you arrive.
The Saugatuck Labyrinth
A labyrinth is an ancient means to recognize spiritual energy. They have existed in many cultures and have been located at many of the most renowned Christian churches in the world. The Chartres Cathedral in France contains perhaps the most well-known labyrinth in the world, a 12 ring labyrinth built around 1230.
In the fall of 2015, a labyrinth was added to the west end of the Great Lawn at Saugatuck Church. The Saugatuck Church labyrinth has 7 rings designed to traverse the material world through the realm of higher consciousness. It is available year round to anyone who wishes to use it. Directions:
Begin your walk into the labyrinth by pausing at the beginning.  There is no one reason to walk a labyrinth.  You may have a question or problem that needs a solution.  Ask the labyrinth to give you guidance.  Or, you may just choose to walk the labyrinth in silence…to quiet your inner self.
The speed that you walk the labyrinth is not important.  Walk at a pace that feels right for you.  Follow all of the many turns.  If an area seems to present a greater flow of energy, feel free to pause in the spot.
Continue on to the center.  There, you may choose to reflect….concentrate….pay attention to your inner thoughts and feelings.  You may pray if you like.
When you are ready, begin walking back out of the labyrinth….following the same course that you took on your way in.  Once you exit the labyrinth, turn to face it, pause, and thank it.