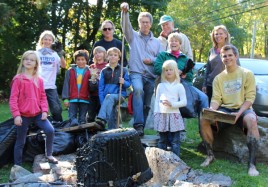 Environmental Issues
Our faith is grounded in wonder, reverence, love, and respect for all of God's creations. Our EarthCare/EarthShare ministry team finds opportunities to engage us in special projects and to raise awareness of environmental issues.
Saugatuck River Cleanup
Church members both young and old help to clean up the Saugatuck River as part of  the annual International Coastal Cleanup. In 2014, in an effort spearheaded by our Youth Group, 18 volunteers participated. In just a few hours they collected:
33 tennis balls
4 tires (2 complete with rims)
parts of 2 car bumpers
1 doorknob
74 plastic bottles
42 plastic bags (despite Westport's ban on plastic bags)
4 buckets
73 glass bottles
2 foam sofa cushions (in a really ugly fabric)
Plus uncountable bits of this and that, all of it adding up to….
495 pounds of garbage!