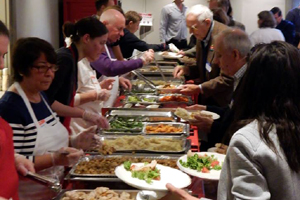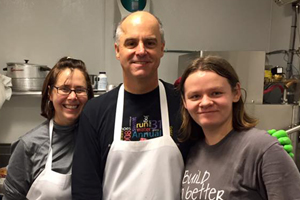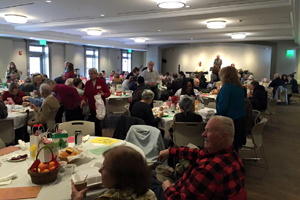 Community Feasts
For over 40 years, Saugatuck has been holding Community events on Thanksgiving and Christmas Day that are free and open to everyone – young families, homeless people, older folks, anyone who might otherwise be alone. We open our doors, and hundreds of volunteers and donors work together to make these days a truly special occasion.
While we had always welcomed volunteers from other faith communities, our displacement in the wake of the fire in 2011 led to these events becoming a truly "Community" affair. Leadership is shared with other houses of worship, organizations, and individuals. We look forward to continuing to work with our partners to make the holidays a warm and heartfelt celebration for all.
46th Annual Community Christmas Day Reception
Sunday, December 25
11 AM – 1 PM
Hoskins Hall
We need dozens of volunteers to bring the event to life. Sign up online today.