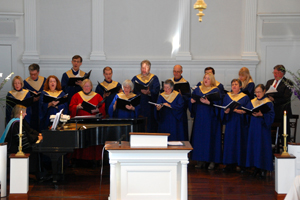 Music Program
Music is an integral part of our Sunday worship, enhancing it with hymns and songs that reflect the themes of the day. We incorporate many different genres and styles of music, ranging from Gregorian Chants to brand-new works. Performances of J.S. Bach's Magnificat and Maurice Duruflés' Requiem have graced our sanctuary. Jazz, folk, and classical guest musicians have shared their talents with us.
Our Chancel Choir has a core professional quartet of experienced singers. The choir has a creative, playful streak, and enjoys music of all kinds; they've performed everything from Bach Cantatas to Siyahamba in the original Zulu, to "You're a Mean One, Mr. Grinch."
Membership is open to anyone – all you need are enthusiasm, the ability to work in a team, and time to attend rehearsals and Sunday worship. Rehearsals are on Thursdays at 7:30 PM. Please contact Heather if you are interested!
Make a joyful noise to the Lord, all the earth.
Worship the Lord with gladness;
Come into his presence with singing.
– Psalm 100:1-2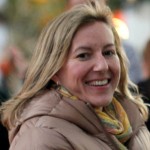 Dr. Heather A. Hamilton, Director of Music
Heather has been our Director of Music since 2011. She started playing piano at the age of 6, and remembers sitting under the grand piano coloring while her mother had voice lessons. These days she lives in Westport and is the owner of Hamilton Music Services, teaching beginner through advanced piano, as well as theory, history and composition to children and adults of all ages. In addition to the piano, Heather also plays the organ, percussion, cello (her favorite musical instrument) and clarinet. She is well-known in the local music community as a conductor, accompanist, and educator.
Heather holds two masters degrees in Music from the Manhattan School of Music, and a Doctorate in Educational Leadership. She is a frequent guest lecturer in the arts throughout Fairfield County. She enjoys all kinds of music, and her favorite composer is whichever one she is listening to at the moment.